Product: Acne Absorbing Cover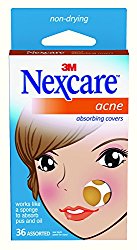 By: Nexcare
Place to Purchase: Amazon
International Shipping: AmazonGlobal eligible
Product Overview
Here is a very interesting product for your treatment of Acne. The Nexcare absorbing covers are a chemical free alternative for maintaining your skin oil free, moisture free, bacteria free and picking pimple free.
You place the cover on an already growing pimple and that's it. The cover will absorb the pus and oil that comes from the pimple and also stops you from picking it.
The cover changes color when it has absorbed enough pus and oil giving you a visual tell on when to change the cover or if the pimple has been eliminated.
The beauty of this product is that it will deter you from picking your face, rather than squeezing the pimple, you place this on your face and leave it alone.
Remember picking and squeezing is the number one reason you get Acne scars and this product helps avoid all that.
This product is recommended for people with light to mild Acne, the pads work on Cysts, Pustules, Nodules and Whiteheads.
The Acne page explains the different types of pimples if you are unfamiliar with the names, but in short, all pimples at that red bump stage and the stage where they are pus filled sticking out.
So Why This Product?
Aside from the huge amount of positive reviews on Amazon, the concept of this product is so simple its silly. There are no chemicals involved, the product is just one big towel that sucks all the badness from your pimple.
They come in two different sizes and are very comfortable.
I noticed some people giving bad reviews because they thought the product was expired, when in reality they were reading the lot number date format incorrectly.
Some Tips and Tricks?
Sure, while they are designed to absorb oil and pus it is important for you to wash your face and fully dry it before applying the covers, this will not only let you apply on a clean pimple surface it will also help the cover stick better to your clean dry skin.
It might be a little too obvious looking, so many people use it at night. Wash their face before bed, place the cover then remove it in the morning.
It is advised against using any acne product or treatment under the cover, this way the product won't get absorbed on the cover.
You should always wear moisturizer on the rest of your face, don't forget to check out the best one in the Red/Dry Skin page.
Final Thoughts
Check out the Acne Absorbing Cover over at Amazon, this product has saved me from some huge pimples and I've seen many people getting excellent results.
When you get a last minute pimple before an event these covers can really save you, don't let acne interfere with your daily life.
If you have any questions don't hesitate to ask and I'm pretty sure this product will help you on your path to Beautiful Clear Skin.